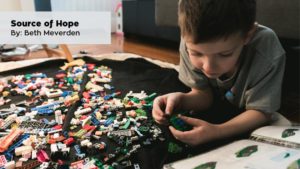 Who will my children become? Will they continue in the faith as adults? What if I did something wrong with them? What kind of spouses and parents will they be? Did I teach them enough?
When we ask ourselves questions like this, especially as parents of teenagers, we have hope they'll become who God wants them to become. We hope they'll continue and grow in their faith and share it at least with their children but also with anyone God brings into their lives. 
We must trust God that whatever He led us to train and teach them will be exactly enough. BUT there are some very cool gifts we get as we trust God in our lives.
Romans 15:13 says, "May the God of hope fill you with all joy and peace as you trust in him, so that you may overflow with hope by the power of the Holy Spirit."
Paul is praying for Roman Christians and anyone else reading this letter to them (us). His prayer can give us some perspective as we ask ourselves questions about our children's futures and if we did enough! 
The Source of Hope
As we trust in Him, the God of hope (NLT says God is the Source of Hope), he fills us with joy and peace. 
Joy doesn't melt like happiness. 
Happiness is based on circumstance and joy is a gift from the Holy Spirit we can tap into whenever we need it. We always have something to be joyful about because of our salvation. Our salvation gives us hope! We can rejoice that God is in charge of salvation and not us. We can trust our children and their eternity to His care.
This isn't hippie peace that was really a cry for war to end without resolution. This isn't "I just want peace and quiet… stop fighting!" This is a calm we feel no matter our circumstances. It's peace in the midst of sickness and disease, tension with our children, and the unknown. 
This kind of peace only comes from God.
Having true joy and peace gives us hope that there's more than we could ever even imagine for our children. When we have this hope, it overflows from us by the power of the Holy Spirit. Imagine your hope being contagious and "infecting" your children. 
What will your children become? Influential, amazing, honoring. 
Will they continue in the faith as adults? "Start children off on the way they should go, and even when they are old they will not turn from it." Proverbs 22:6
What if you did something wrong or didn't teach them enough? What kind of spouses and parents will they be? Trust Hope. Rejoice and have peace… Jesus is enough for your children now and He'll be enough for them then.
In which areas do you need to trust God with your children, letting Him be the Source of your hope for them?